For years of evolution, floor vacuuming with the robot still remains a little more than tedious housework for us. Poor navigation, inadequate delivery. Not to speak of the inconvenience of emptying and cleaning the dustbin for it. Very frustrating!
​
Thankfully, Neabot is here to make your life easier. Neabot can empty its dustbin and resume the cleaning task automatically without you interacting with them. So you can forget about the cleaning chores for weeks and focus on other productivity tasks.
*Note: You will be directly to www.gadgetplus.com to complete the purchase. GadgetPlus is a strategic partner of Neabot. All after-sales services are strictly in line with Neabot's guideline.
The Ultimate Hands-free Vacuuming Solution
Neabot is the most powerful robot vacuum featuring an innovative self-emptying dustbin system. With Neabot, it makes it possible for you to schedule your cleaning and let it do the rest without any intervention even for weeks.
Automatic Dirt Collecting & Disposal
Forget about vacuuming for up to a month with Neabot self-emptying dustbin. Neabot automatically transfers the dirt collected from the robot into the bag-lined dustbin without you having to touch the mess.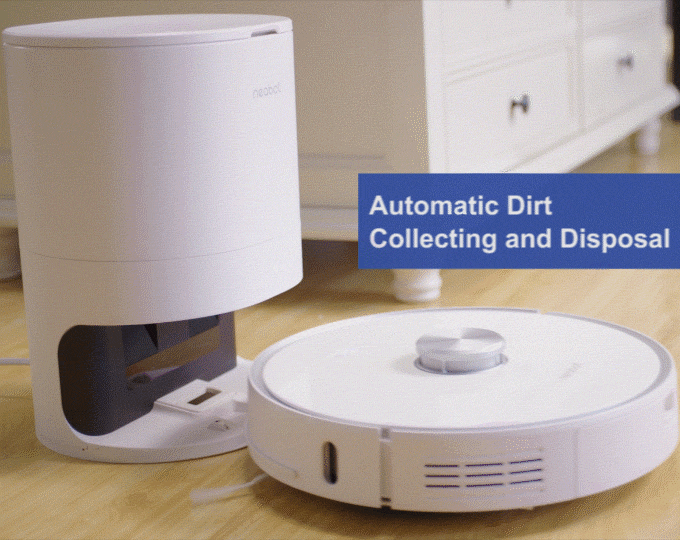 Set it and forget it! The Auto-sealed dust bag holds 2 to 4 weeks of dirt and debris for easy disposal without the cloud of dust.
Strong Suction with 2700Pa
Neabot can easily carry out more heavy cleaning tasks with its unbeatable suction power of 2700Pa. Two side brushes and a roller brush effectively loosen, extract, and vacuum dirt to give a superior clean.
Multi-Level Vacuuming Modes
Utilized 3 levels of suction power including Small, Regular, and Strong modes, Neabot easily tackles any mess whether for regular or deeper cleaning.
Neabot comes with smart carpet identification that recognizes carpet flooring and automatically boosts the suction for extracting pet hair and other debris from carpet fibers.
One Charge, 200m² of Cleaning
With a large battery capacity of 5200mAh, Neabot cleans up to 3.5 hours per charge for a space of about 200m²(2150 ft²).
Smart Mapping and Routing
Neabot can learn the environment and figure out an optimized cleaning routine. The technologies of Lidar Navigation and the Simultaneous Localization and Mapping (SLAM) literally make Neabot smarter than ever.
Customizable Cleaning Strategy
Neabot uses a z-shaped vacuuming pattern, instead of just randomly traveling around, which tends to be a more efficient way to clean. Once the map is saved, you can ask Neabot to clean the rooms that you want it to and set the daily cleaning strategy as you wish.
Complete Cleaning by One Click Away
With the Neabot APP, you can adjust cleaning settings, customize the cleaning strategy, and monitor the cleaning status and more no matter where you are.
With a room map saved, you can tell the robot to clean only certain parts of the room and to stay out of others. Simply drag the bounding box to the area you want to be cleaned, it's done.
You can also place virtual "no-go" zones from within the app, sectioning off any particular areas or boundaries to prevent your robot from going there.
You can direct the robot to clean any exact spot you want it to clean and it will clean the localized area of 5*5 ft (1.6*1.6 m) around it.
Neabot allows users to schedule a specific room to be cleaned at different times and on different dates, providing truly convenient and effortless home cleaning.
What makes a robot cleaner robotic is the precision of the navigation sensors. With multiple smart sensors, Neabot avoids obstacles with ease and tackles tough terrain effortlessly.
When Neabot knocks into something, its bumper retracts and the sensors tell the robot to find a clear path.
The cliff sensors help Neabot sense the edges and avoid it falling from heights.
The wall sensors let Neabot follow very closely along walls and around objects without touching them.
When the battery starts to run out of juice the vacuum will return automatically to its charging base.
Complete Cleaning Control At Your Fingertips No Matter Where You Are
*Note: You will be directly to www.gadgetplus.com to complete the purchase. GadgetPlus is a strategic partner of Neabot. All after-sales services are strictly in line with Neabot's guideline.